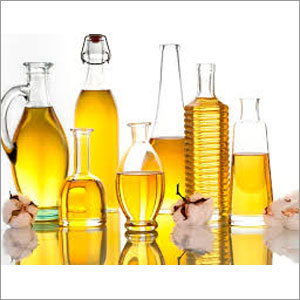 Vegetable Oil
Product Description
Backed by a diligent team of professionals, we have been able to offer a wide assortment of Vegetable Oil to our customers. This is known for its high levels of mono-unsaturated fatty acid, seamless quality, high smoke point, longer shelf life, etc. Offered oil is refined and packed in sealed bottles for convenient usage and longer shelf life. In addition to this, clients can avail the Vegetable Oil in many packaging sizes at industry leading prices.
Refined vegetable oil is obtained from the seeds of different plants. The fats from plant seeds are polyunsaturated, which means it remains in a fluid state at room temperature. There are many kinds of commercially refined vegetable based oils, ranging from soybean, coconut, olive, sesame, peanut, safflower to corn and rapeseed.

Vegetable oil, in general, means a blend of several oils with a base oil of soybean, sunflower or corn. While in case of refined cooking oil, highly intensive mechanical and chemical processes are employed for extracting oil from the seeds. It can be found in almost all domestic and commercial kitchens, and are used for the purpose of frying, baking and salad dressing. Benefits vegetable oils are said to provide include reduction in the risk of cardiovascular diseases, betterment of metabolism and digestion, and reduction of the chances of breast cancer. This oil provides essential omega-3 fatty acids to the body. The two most healthy vegetable oils are olive and coconut oils.

However, some studies showed that all natural nutrients are removed from the seeds and the final product created has the capacity of easy oxidization. The oxidized oils when consumed can break down into cancer causing free radicals within the body. Many refined vegetable oils are hydrogenated, through which the oils remains solid at room temperature. This process converts the fatty acids into trans fatty acids, which are particularly dangerous to human health.

In many people, the vegetable oil created through chemical extraction process has resulted in many health issues, such as inflammation within the body, elevated blood triglycerides, an impaired insulin response, diabetes, cancer and heart disease in multiple cases.

The Process of Extracting Vegetable Oil

A long process is followed for the extraction of vegetable oil from oil seeds. Following mentioned are those steps:

The oil seeds of cotton, sunflower, soybean and more are collected. The plants from which these seeds are gathered are cultivated in an organic way, which means without using pesticides.

The husk from the seeds is removed and are cleaned of dirt and dust, and then crushed.

For extracting oil, the crushed seeds are then heated at 110 degrees to 180 degrees temperature in a steam bath.

A high volume press using heat and friction presses the seeds to obtain oil from seed pulp.

To squeeze out more oil from the seed pulp, the pulp and oil are steamed again in a hexane solvent bath.

The seed and oil mix is transferred to centrifuge, in which phosphate is added to separate oil and seed residues.

The solvent extraction gives crude vegetable oil. The solvent is evaporated and recovered. The residues of seed are made by-products for animal consumption through conditioning and reprocessing.

The crude vegetable oil is further refined through processes, such as water degumming, neutralization and bleaching:

Water degumming: As the very name of the processes states, water is added into crude oil. After a certain reaction period, either through decantation (settling) or centrifuges, hydrated phosphatides are separated. After-wards, both large part of water soluble and small part of non water soluble phophatides are removed. The remaining gum is processed into lecithin for different purposes, from food, feed to technical.

Neutralization: In this process, all the impurities like free fatty acids, phospholipids, pigments, or waxes which can the cause fat oxidation and result in undesirable colors and odors in final product are removed by treating the processed oil with caustic soda (sodium hydroxide) or soda ash (sodium carbonate). All the aforementioned impurities settle to the bottom and are finally drawn off. The resultant refined oils are lighter in color, less viscous, and more susceptible to oxidation.

Bleaching: In this process, off colored materials in the oil are removed. Several bleaching agents, like activated carbon, activated clay or fuller's earth, are used to treat the heated oil. Impurities like chlorophyll and carotenoid pigments, are absorbed and removed by filtration. However, this process also promotes fat oxidation as few natural antioxidants and nutrients are also removed along with the impurities.

Deodorization: It is the final step in the refining vegetable oils. Pressurize steam at 500 degrees or higher temperature is used for the removal of volatile compounds which would result in off odors and tastes in the final product.

The "refined oil" is produced, which is ready to be consumed or for the manufacture of other products. A light solution of citric acid is often added in order to inactivate any metals (iron or copper) present in the final product.

Contact Us
Po Box 1277, Manama Bhairain, al-Manamah, al-Manamah, 1277, Bahrain
Phone :973-39-688345